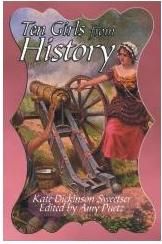 The author of Ten Girls From History, Amy Puetz, is a home school graduate that found herself changing up careers very early on in her life due to chronic illness. Like she says on her website, "When God shuts one door another is opened". Due to this huge change that happened in her life, we get the blessings of her passion for history. For this review our family was offered
Ten Girls From History
in an e-book format that I read on my computer as a read aloud. Grace's main complaint is that each girls' story was not broken down into chapters. We like to finish a chapter before stopping. Each story, in my opinion, is too long for one sitting. Ten Girls From History is 238 pages, is recommended for ages 10 and up, and retails for $15.00. Currently Amy is having a back to school sale where the book can be purchased for $12.00 until September 1st. According to Amy's last email her book is now available as a PDF, MOBI, EPUB, audio book, and a printed book. Each chapter is about a special girl's life and accomplishments from history. Here is a list of who you will find in the book:
Louisa May Alcott
Clara Barton
Molly Pitcher
Cofachiqui
Madline DeVercheres
Dorothy Quincy
Ida Lewis
Elizabeth Van Lew
Virgina Reed
Clara Morris
As I have mentioned before we tend to use a lot of books as read alouds so we can enjoy the experience together. Our favorites of the Ten Girls From History were Louisa May Alcott (we just love Little Women), Cofachiqui (found very interesting her dealings with DeSoto), and Clara Morris (because of Grace's aspirations with acting). The website states, "Girls of all ages will enjoy meeting these ten remarkable girls from the past, and parents will appreciate the godly examples found in these pages. Both inspirational and entertaining, this book will bring history alive for your family". All of the young girls that Amy chose are very interesting. We found it fascinating to take a peek back into their childhoods and see how they grew up along with their family life. Other books available that crew members reviewed were Heroines of the Past Bible Study, Costumes with Character, and Uncover Exciting History. Please check out Amy's website
Golden Prairie Press
and check out all the great history items she has available. To view all the opinions and reviews visit the
TOS Review Crew
.
Disclaimer: As a member of the TOS Crew, I received this product at no cost to me in exchange for my honest review. All opinions are mine.