As a homeschooling family we have used many different books, websites, magazines, and educational resources over the past seven years. One of my absolute favorites is
God's World Magazine
. We actually used this a year ago for 8th grade current events until our subscription ran out. I was thrilled to find out we would be reviewing
God's World News
through the TOS Review Crew. This time Grace would move up to the high school version
Trak
since she is now in the 9th grade.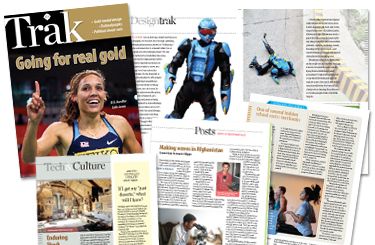 We have received three magazines so far for the months August, September, and October, all as physical copies. A full year of Trak will run you $28.00 which includes 10 monthly issues. We were given a one year subscription for this review. A magazine will come to your home every month except May and December. God's World News also offers a school and group subscription. Each issue is 32 pages in length and is recommended for 9th - 12th grade. God's World News does have subscriptions available for all age ranges, including adults.
God's World News is an organization that provides news and events that happen in the United States and the world through a christian perspective.
Trak
is the magazine that is designed for high school students. All levels of their magazines strive to provide "News, knowledge, and wisdom". Trak is written in a style that would appeal to young adults as well as get them reading to make the jump to World magazine, which is for adults. Sections that can be found in Trak magazine include:
In-depth Feature Stories
Editorials
Economics
Technology
Info Graphics
Safe coverage of cultural events and public personalities
Recently God's World News has added a new feature in a website that subscribers can log into for more activities and resources. God's World News Teen is the website our subscriber number allows us to use. This website can be used on the computer, tablets, and smartphones. This new website includes articles from the magazine as well as some articles that are website only. Sections on the website currently include:
SciTech
Must Know
Beliefs
Fun Stuff
Live Culture
Arts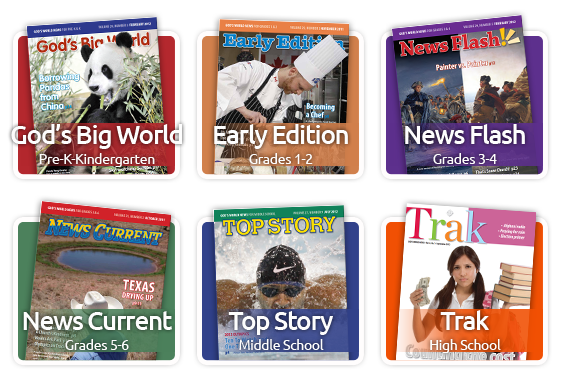 Each month on the www.gwnews.com site the subscriber can view the current edition online, biographies that pertain to the articles in the current edition, and lessons to go along with the chosen edition. Visiting the Trak page on the website will also give you links to Explain It! Articles ranging from Astronomy to cloning to Natural Disasters and so many more. There is also a Today In History page that can be reached through the resources tab. To top all of this with a big cherry, God's World News also has 120 biographies available to read. You can sign up for an e-newsletter as well that is sent to your email weekly.
How Do We Use This In Our Home:
Through the high school years we have planned to study current events. This is an actual credit I intend to put on Grace's transcript. The Trak magazine from God's World News has become one of the main resources we use for this Current Events credit. I have Grace read 2-3 pages each morning. Sometimes we discuss the material. My long range goal is to have her pick an article each week to write about in her journal as well as find where on the map the event took place. Grace has always enjoyed reading God's World Magazine. She does like the middle school version better, mainly because the articles in Trak are a more challenging read. But that is the whole point. Each new year and new resource should challenge her.I also really appreciate the fact that I can hand off the magazine to Grace and not worry about what she may come across in the material. All the articles are coming from a christian world view. I would recommend this resource to anyone, any age. It is a lovely magazine and with all the website extras, you just can't go wrong with this educational tool.
Please visit
God's World News
and check out the
Trak
magazine for high school students.
Also be sure to visit the
TOS Review Crew
to see what other families thought of this wonderful product.