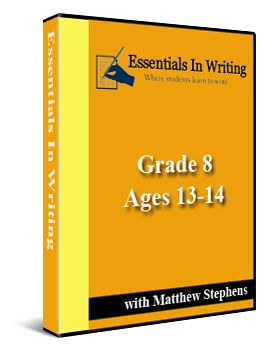 Ask anyone who knows Grace or reads my blog and they will tell you that writing has become her least favorite subject to tackle. This obviously makes other subjects, such as history and science harder to pursue at times. She will try just about anything to get out of writing a summary or paper. This is not to say she isn't good at writing, because according to her essay writing teacher she is right on target for a 8th grade student. All this said, she can always use more practice and guidance in the area of writing. About six weeks ago we were given the opportunity through TOS Review Crew to review
Essentials In Writing Grade 8
from
Essentials In Writing
. To begin the review let's learn a little background about this company. Essentials In Writing was founded by Matthew Stephens. Mr. Stephens was a public school English teacher before creating this product and has taught almost every grade level of students. Mr. Stephen's goal has always been to teach students to be confident in their writing, have fun with the study of language, be able to communicate with readers effectively, and also to be effective with applying what was learned into the students writing.
Mr. Stephen's Strategy
Watch the video of new or reviewed material. Once the video is viewed with a step by step approach students will accomplish activities and writing assignments.
Material is presented in small "chunks" that will be built upon for understanding and application.
Mr. Stephens will actually show the student "How to apply the new concept in writing".
Basically the student watches the video lesson taught by Mr. Stephens then progresses to the assignments. Depending on what the lesson is teaching, the student may have one assignment or several assignments to complete on subsequent days.
What You Need to Know
Currently Essentials in Writing is available for grades 1-12. According to the website two new High School courses will be released at a later date. For this review we were asked to use
Essentials in Writing Grade 8
. Grade 8 is recommended for ages 13-14. Topics covered in the Grade 8 curriculum include:
Writing Sentences
Additional Grammar
Mechanics
Business Letter
Paragraphs
Writing Process
Narrative Writing
Descriptive Writing
Expository Writing
Persuasive Writing
Using Effective Writing Techniques
Multi Paragraph Compositions
Informational Report
Using Figurative Language
and even more
At this time Essentials in Writing Grade 8 retails for $40.00. This includes 64 DVD lessons and corresponding worksheets/assignments, plus answer key. The product we reviewed had printable worksheets off of the DVD, but a letter from Mr. Stephens informed us that this will be changing. In the near future when the product is purchased a PDF link will be emailed to you with all the worksheets to print. If you do not want to do all that printing, they even offer a workbook to be purchased for $20.00. I am including this clickable link to provide you with a
sample grade 8 lesson
to view. It seems that Essentials In Writing has thought of everything to make this a very easy curriculum to use.
How We Used It and What We Thought
We incorporated this writing curriculum into our daily subjects and used it 3-5 times a week depending on our schedule. We concentrated our time on three different areas of the curriculum. First we used lessons 2-7 (clauses, complex sentences, compound sentences, prepositions, etc.) as review work. Next we tackled lessons 12-17 which dealt with paragraph structure, descriptive and persuasive paragraphs, as well as compare and contrast. It was recommended by Mr. Stephens to watch lesson 18 and 19 which discusses the writing process and point of view. Both were very helpful and informative. Lastly we chose Compare and Contrast in a Business Letter to learn. This is one area of writing she hasn't learned in her current writing class, so it seemed like a perfect choice.
First off I think this is a very comprehensive and thorough program. I like DVD programs. Writing is not my forte and in the long run Grace wouldn't learn much from just me. Having a teacher present for each and every lesson, to show the "how to" is priceless. The thing is though - this is not a pricey product. Purchasing a year long writing curriculum, with a teacher "teaching" every lesson for $40.00 is just plain great. Very economical in my opinion. Mr. Stephens was easy to listen to and didn't become boring at any point. I wish I could say "Grace just loves writing" after using this program. But in all honesty that wouldn't happen with any program in her opinion, although, I think she would admit to it being virtually painless. Grace would like me to also add that she really likes the intro music that was chosen for the beginning of the DVD.
Please go to
Essentials In Writing
and check out all the wonderful products that are available. The product provides lots of bang for the buck.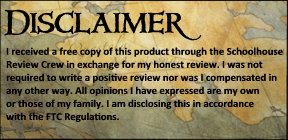 Be sure to check out what other families on the
TOS Review Crew
think about Essentials in Writing.