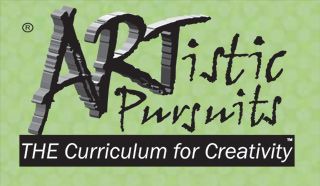 In our home we live,eat, and breathe art. My husband is a self taught artist with art in four different galleries between Georgia and North Carolina. Grace is following in his footsteps down her own path of becoming an artist. I say all this to let you, the reader, understand how much art takes place in our home on a daily basis. I was super excited to learn this year that
ARTistic Pursuits
would be on the schedule with the TOS Review Crew. Our family was blessed with the opportunity to review,
ARTistic Pursuits, High School Book One The Elements of Art and Composition
.
The High School book retails for $47.95 and will come to you as a comb bound book with 92 pages, which includes 68 lessons. High School Book One is newly revised and expanded as a 3rd edition. ARTistic Pursuits recommends this book for ages 14 and up. Once completing this course/book it will fulfill an art credit to go on the student's transcript, as well as have 68 complete drawings in the student's portfolio. It will also prepare the student for further college art courses. Recommended scheduling is two classes per week with each class lasting one hour. At this pace the course/book will take 32 weeks to complete.
What Is Included In Each Unit
Each unit includes four lessons:
Building a Visual Vocabulary - Here the student will find a topic to focus on (space, texture, line, etc.) that is explained through pictures and words followed by an assignment.
Art Appreciation and Art History - That same focused topic will be addressed in this section through examples of famous artists and time periods. Again this will include an appropriate assignment.
Techniques - In this section of the unit students will learn how to use tools and materials to accomplish the topic being studied with an assignment to apply the techniques that were taught.
Application - A final project is assigned that brings everything together that the student has learned.
How We Used This Product and What We Thought
Currently in our homeschool life we are putting a lot of focus on different forms of art. This review couldn't have come at a better time for us. The High School product is recommended for ages 14 and up with Grace not turning 14 until June. I felt with her background in drawing she could handle working with the higher level material. So far she has had no trouble with the higher level work with the exception of the unit on texture which has given her some challenges. As most of my readers know, her main form of drawing revolves around manga/anime. I felt it was time for Grace to broaden her horizons by stretching her drawing talents. We have one day a week where we only focus on art and ARTistic Pursuits has fit in well to that schedule. For review purposes we used this 2-3 days during the week which has brought us to finishing up Unit 3 on Texture and already diving in to Unit 4 which is Shape. Grace has enjoyed using Artistic Pursuits and we plan on continuing until the course/book is finished. My favorite section is Art History and Grace just enjoys anytime it gives her the opportunity to draw. This course/book is giving Grace the training in basic art techniques that she can build on throughout her life. The set up and design of the book makes it incredibly user friendly. I love the fact that every single page has wonderful drawings or illustrations and that each unit introduces us to a famous artist. I would highly recommend this product, especially to students interested in furthering their knowledge of art. I do need to mention there are certain supplies needed for each lesson/unit that can be purchased from your favorite art store, etc. Luckily we already had everything we needed due to the amount of art that is created around here.
Please take a virtual trip to
ARTistic Pursuits
and check out all their wonderful products.
To view what other families think of this product and others from ARTistic Pursuits visit
TOS Review Crew
.