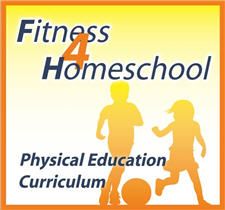 For the purposes of this review we were offered to review
Fitness 4 Homeschool - Core 1
through
Family Time Fitness
. We received the product as bundles of PDFs which I printed out and put in a binder. Over the past year getting and staying fit has become a primary focus in our family's life. Currently we do something active 3-5 times a week. I felt this product would be a perfect fit for us to help us get a little more structured in what we did each day for fitness. Childhood obesity has become a real problem in our society. Getting kids to be active is a struggle with all the gadgets, games and such that they choose to do before even thinking about exercising. Finding a product that motivates kids to get active and have fun at the same time is part of the solution. I think Family Time Fitness has succeeded in this arena.
Let's get down to what the product is and what is included. The curriculum includes 260 planned lessons, Each lesson is very well laid out with skills that are being taught, suggested recovery times, warm up exercises, activities and game play, cool down exercises and an outdoor activity. What makes it even better is the clickable blue links that take you to a video to demonstrated each exercise or activity. For homeschool parents this is a great product that takes very little time in preparation and what kid doesn't like being active and playing games. The lessons are recommended for five days a week and each lesson takes 30-45 minutes to complete. Here is what is included in Fitness 4 Homeschool Curriculum:
Start Up Guide
PDF Lesson Plans
Video Demonstrations
Assessment Tools
Reminder Emails
Lifetime Curriculum and Video Updates
Access to Online Webinars and Certificates of Completion
Recommended Equipment:
Bean Bags
Jump Rope
Hula Hoops
Playground Balls
Foal Balls
Cones
Measuring Tape
Stop Watch
Exercise Mat
What We Thought and How We Used the Product:
I thought the product was great. Grace was a little more reluctant with it. Grace was the only child using the product and would have benefited from a fitness buddy other than her mother. We used the product three times a week as a supplement to what we already do for exercise. Grace is in the 8th grade and at the top end of the age range for this product. She expressed that some of the exercises seemed a little young. I feel that as she worked her way farther through the program the exercises and activities would have become more intense. Even though it wasn't a perfect fit for us to use at home, I really liked the product and thought it was very well researched and put together. I feel this product could be utilized for many homeschool families. I am even looking into purchasing the license to use the program in our cooperative. I felt the price was right on target and a bargain for all that you will receive in the curriculum.
Family Time Fitness
does have other products available for high school and co-ops. Fitness 4 Homeschool - Core 1 currently retails online for $57.00 and is recommended for kids K- 8th grade. The normal price for this product is $199.00. Please visit
Family Time Fitness
and check out all their wonderful products.
To view what the rest of the crew thought visit the
TOS Review Crew
.
Disclaimer: As a member of the TOS Review Crew, I received this product at no cost to me in exchange for my honest review. All opinions are mine.