High School Science is something I have dreaded for the past couple of years for a variety of reasons. 1.) I didn't study past Biology in high school or college. 2.) Grace is not that fond of studying science. 3.) We are not textbook people and that seemed like all that was available for high school science choices. Now Grace is about to start high school and I need to get it figured out. Well, evidently there is something out there that is different than all the rest,
Science for High School
. For this review we will focus on
High School Biology In Y
our Home
.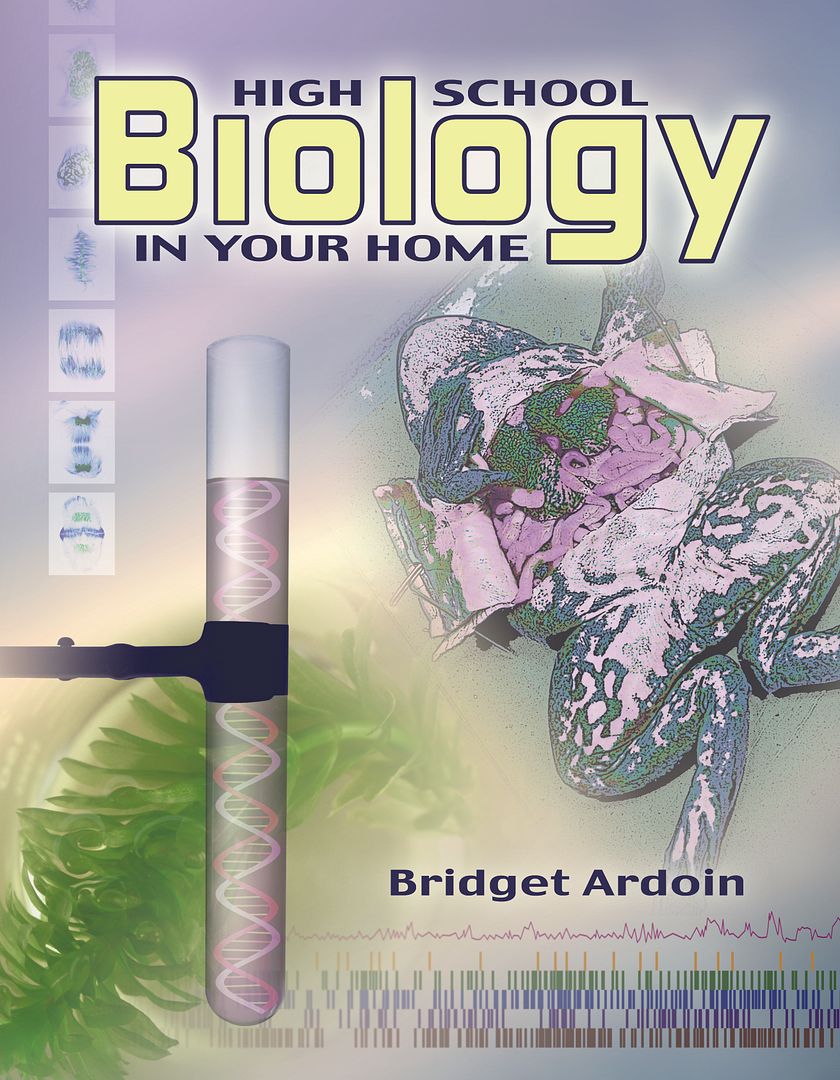 High School Biology In Your Home
What is included: Student Manual Pages in 3 hole punch form ready for a binder, Quizzes and Final Exams, and a Teacher's Manual.
Cost: $79.99
Recommended Age: 9th - 12th grades
Other available subjects: Physical Science
Chemistry
High School Biology In Your Home is a completely different and unique way to study science. This is a research based program, not a read the chapter, answer questions, and take a test at the end of the week kind of approach. Instead each week your child is given a set of questions to research and answer. The researched answers can come from the Internet, traditional textbooks, library books, encyclopedias, and so on. Once the questions are answered you will sit down and discuss what your child has learned through their research for that week. Also at the end of the week your child will have an opportunity to conduct some type of lab work pertaining to the subject matter that was studied. If quizzes and tests are what you like, they have those too. The teacher's manual has all the basic answers that the student should have found through their research.
First semester of this product will pertain to life, cells, and the different systems of the human body. Second semester the student will learn about genetics, animal classification, and careers in biology. Below you will find some sample questions from the curriculum that can be found on the website:
Is body movement solely muscular?
What are the types of muscles, what is the importance of each type, and given an example of each.
State one disease or disorder of the muscular system.
To get the full benefits of the product - a microscope, slides, and dissection kits should be purchased and used. Also I believe it takes a particular type of student to use this product. The more the student puts in to the research the more they learn. If you have a student that can't get past one or two sentence type answers for their questions and is not interested in doing a lot of researching in a variety of places - then this might not be for them. But, and this is a biggy.....if you want to learn in a different way, use a unique approach to learning using research as a basis, then this would be a great choice for you.
I would at this time also like to add some information about the author of this product, Bridget Ardoin. She has a background in microbiology and has taught the sciences in both private and tutoring type environments. She is also a homeschooling mom that found a need and filled it with her science courses geared to homeschooling families.
Also be sure to visit the
TOS Review Crew
and see what other families thought about this product.