I admit that some nights my mind wanders. Most times I am wondering if I am raising my kids right. Have I taught them everything they need to know. Especially about morals, living a good life, turning to God to lead you on that path, and basically how to be a good person and treating others kindly. The world these days is a scary and sometimes uninviting place. It is important to start our kids on the right path with spiritual guidance and teach them some of the big concepts of living a life you can be proud of. Recently our family was asked to review
25 Truths: Life Principles of the Happiest and Most Successful Among Us
by
Ed Douglas Publications
.
First let's meet Ed Douglas, the author of 25 Truths. After reading a short bio about this man, I am impressed. He has led a very active and fulfilling life. Mr. Douglas has also been very successful in business as well as giving back to the community through volunteering and serving. 25 Truths is not the first book he has written. On his website you can find links to other books he has written, "Making a Million With Only $2000: Every Young Person Can Do It" and "The Money Marathon: 7 Simple Steps to Financial Freedom." This review will be about his third book
25 Truths: Life Principles of the Happiest and Most Successful Among Us
.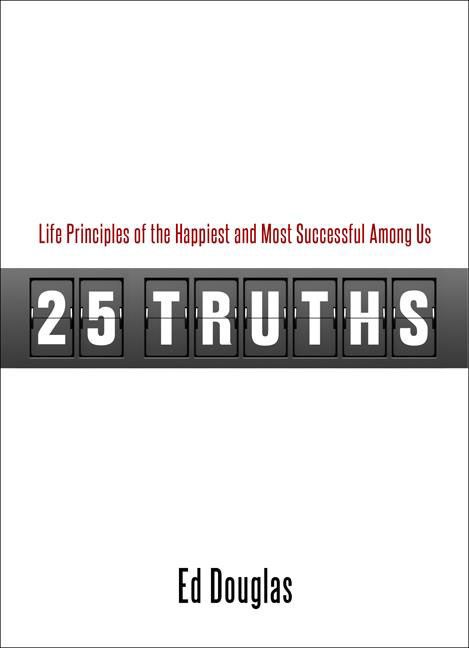 25 Truths is a small softcover book, 150 pages in length. Currently 25 Truths retails for $12.50 plus $3.00 for shipping and tax through the Ed Douglas website. This book would be a great fit for students 6th - 12th grades as well as college students and adults. 25 Truths started out as a list that Ed Douglas carried around and shared with his friends, students, and acquaintances. Eventually it was recommended to him to turn the list into a book.
There are multiple ways this book could be used. Each chapter is one truth that is followed up with discussion questions. This makes it quite easy to be used in a classroom setting like youth groups and Sunday school classes, small groups, and one on one with your own children. It would actually make a fantastic present to send off with students heading off to college or stocking stuffers at Christmas time.
I decided to read the book myself first to get a handle on how I would use it with my family. Each night before bed I would read a couple of "Truths". A few of my favorites were:
Learn What Brings True Happiness
Exercise, Exercise, Exercise
Spend Time with Your Family
Make a Difference In the World
I found the book to be a simple, easy read and easy to understand. Each truth has attached quotes from literature, famous people, and scripture. I enjoyed my two truths a night and many of them did make me stop and evaluate how I handle certain situations now and in the future.
How I Plan to Use 25 Truths
This year will be Grace's first year of high school. That puts a lot of pressure on her and me. Growing up is a big deal and these days kids need all the help and guidance they can get. In her schedule I have set up a section I call Personal Development which we will delve into one day a week. A couple of books we reviewed this year have fallen in the category of personal development. 25 Truths will be added to this time slot. Every Tuesday morning Grace will read one truth and we will discuss the corresponding questions. This means we will have almost an entire school year of learning and discussing one TRUTH a week. I think 25 Truths will be a good fit for us and that Grace will learn much from it.
Also be sure to see what other
TOS Crew
families think about 25 Truths.