School that is. This summer has been slow and can I go out on a limb here and say boring as well. It is definitely time to get back to a regular schedule. Getting up in the morning at a regular time and going to bed at night at a regular time is important to a healthy mind and body. We really need to get back in the swing of things as far as that is concerned.
This morning started our new school year. So far everything has transpired without incidence. New books, new ways of thinking, more independent study, a more grueling schedule academically than what we are used to, and so on. Tomorrow and Thursday we already had a dentist appt and girls art journaling group scheduled so we will not do school on those days, but will pick it back up on Friday.
A couple of "schooly" books I have really been looking forward to sharing with Grace started today. This first is
King Alfred's English
. I cannot gush enough about this book. I read it for a review last year and learned so much about the history of the English language. I also attended a short class with the author back in March at the Great Homeschool Convention in Greenville.
This morning we read most of the first chapter and answered some of the corresponding questions. If you haven't checked out this book, please do so, you won't regret the purchase.
Another book series from
Salem Ridge Press
by Emma Leslie is something I wanted t continue with Grace over the next four years of high school. We are reading the series together for an Early Church History credit on her high school transcript. This is another vendor we reviewed a few months ago. Love these books. Definitely worth a look.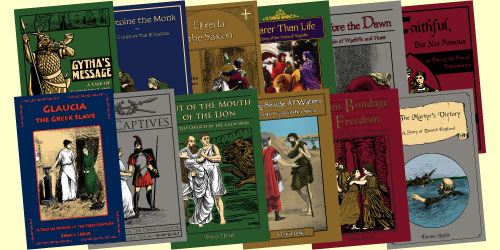 Currently we are taking a lunch break and about to get back into science, history, Spanish, and math. Grace's new high school schedule is something we will need to get familiar with one day at a time. Years in the past has found us at the table for 2-3 hours of school. Well, high school is a different ball game even though we are still putting our own touches on it. I predict we will be looking at 4 hours a day of school. This morning we started at 10:00 and worked for 1 1/2 hours and that basically got us through Bible and English. Tonight is Zumba which calculates to 60 minutes to toward her physical education credit and I am sure she will draw later this after which will translate time on her fine arts credit.
I hope to do another post soon about how we will figure out all of Grace's high school credits to go on the transcript. Now time to drag Grace back to the table to finish up for the day. I'm kidding......sort of.