Have you ever worried about your homeschool student getting comparable computer training that they would receive in the public school sector? If so
Motherboard Books
has multiple products to help you in this area. We were asked to use and review one of their products for the younger crowd,
Let's Make a Webpage
.
Motherboard Books
is run by Phyllis Wheeler, commonly referred to as the "computer lady". Ms. Wheeler was a homeschooling mom with a background in computers and engineering. She saw a need for computer training skills with homeschoolers and created a program with other computer professionals. She has continued to add products in this field of study which has culminated with our family reviewing
Let's Make a Webpage
.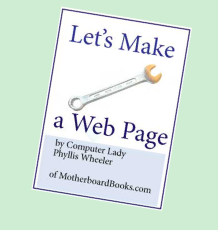 Let's Make a Webpage is an E-book including 60 pages of 10 lessons. The 10 provided lessons will cover the aspects needed in creating a webpage. Items like background, fonts, color, sound, images, and animation. The author recommends this product for children 8-12 years of age. Some parental supervision and help may be needed, especially for the younger of the recommended age group. Grace is 13 (14 in 5 days) and very computer savvy. I was able to hand this off to her and let her run with it. This E-book requires a downloaded free trail version of Coffee Cup Software to complete the lessons. Computer requirements are Windows XP,Vista, or later. Let's Make a Webpage can be purchased for $19.95. A student having the knowledge and capabilities to create a webpage could come in handy for multiple types of projects and assignments. This product could be utilized for interviews, reports, essays, and so much more.
How We Used the Product and What We Thought
We received Let's Make a Webpage as a download. Downloading the product took place without incident. I choose to print the product out so Grace could peruse it at will. Coffee Cup's Free Trail version of Visual Designer is the recommended software to use for creating your web page. The downloading of Coffee Cup went smoothly, but every time we tried to use it my computer would freeze up. I contacted Ms. Wheeler to ask of another site to use but she had no other suggestions that would go along with the lesson plans. She recommended contacting Coffee Cup for support, which I did to no avail. She was very prompt in answering my email and nice. Of course, Coffee Cup not working on my computer, which is a Sony Vaio with Windows 7, is no reflection on her product. It just made me have to step back and rethink what to do. I did contact Coffee Cup by email and phone but no one ever returned my messages. I decided to try my daughter's older HP laptop and it worked like a charm. Grace worked 2-3 times a week until completed. The directions were very easy to follow and all the lessons worked. The recommended assignment was to conduct an interview of someone interesting. Grace created an interview with her father about being an artist. What his thoughts were about being an artist and what he hoped and envisioned his art to be in the future. The product is thought through well and marketed at a good price. I also appreciated the lesson that addressed Internet safety and how to navigate through websites that were offering free images, etc. My only recommendation would be to have a back up software available for any problems that may arise with the first or someone that could help you navigate through the first choice if problems occur. Overall I liked this product and think it would appeal to students interested in computers or creative design. Be sure to visit
Motherboard Books
and check out their product line of computer related materials. Take a visit over to the
TOS Review Crew
to see what other families on the crew thought of these products.