To make the title of this post shorter, I could have simply written, I love all things
Apologia
. I have had the pleasure of purchasing or reviewing numerous Apologia products over the past few years and have never been disappointed. This time included. Through the Review Crew I was blessed with the opportunity to review
Exploring Creation with Zoology 2
by Jeannie Fulbright. Zoology 2 is Swimming Creatures of the Fifth Day. To make this an even better review we were also given the opportunity to use the corresponding
Notebooking Journal
. In order to cover everything properly, I would like to break this review up in two sections; one for each product.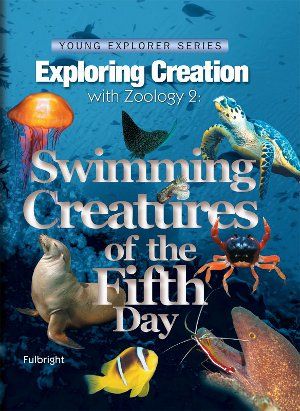 Let's start with the textbook that comes as a hardcover edition and retails for $39.00. Visiting this
Zoology 2 page
will also allow you to see the table of contents as well as a sample chapter from the text. Many topics about the ocean and sea creatures will be found in this book. The 235 pages included in Zoology 2 is packed with all types of aquatic animals from whales to seas urchins and beyond. There are 13 lessons included in Swimming Creatures and the recommended time frame is one lesson every two weeks. As your student reads through the text they will notice words of interest in bold faced type. In each lesson are segments of: Try This (experiment like activities), Narration Questions (to do orally or written), Creation Confirmation (relating to a Biblical worldview), What Do You Remember (review questions), Your Notebook ( a journal you make on your own or the notebooking journal to purchase), projects, and experiments. Apologia recommends Zoology 2 Swimming Creatures for K-6th grade. Even though Grace is in 8th grade we were still able to use this for her Science during the review period and plan on finishing the book this semester. With her being older we are able to go through the book at a faster pace and she reads all the material independently. The Exploring Creations Series is truly magnificent and I would recommend it to all families with elementary students. I would even go so far as to say some middle schoolers could take advantage of the books as well.
Next will we move on to the
Zoology 2 Notebooking Journal
. First off I need to say that the notebooking journal is packed full of everything you could possibly need to enhance each lesson from the textbook. The journal is filled with templates to write down interesting facts that your children read about in the text. Also included in each lesson is a page of review questions to be answered and a crossword puzzle. Pages of copywork is also found in both print and cursive formats. One of my favorites is the Dive Deeper Section. Here you will find more activities and experiments as well as book and dvd titles for further investigation. Each journal lesson also includes Scientific Speculation sheets to fill out for experiments that your child accomplishes. In the front of the journal you will find a recommended schedule on how to implement both text and journal pages into your daily/weekly schedule. The back of the journal contains colorful lapbook pieces to use throughout the journal. Something I really like is the Final Review Questions to be answered after finishing the textbook. This notebooking journal currently retails for $24.00.
Great text and journal. Very engaging and hands on way to learn Science. Just about any homeschooling method of teaching can find a way to use this text and/or journal. The text has wonderful color pictures plus some diagrams and charts. The material can easily be used as a read aloud for younger students, while older students can work more independently. The only problem I have is that we have aged out of the Creation Series before finishing all of the titles.
Be sure to visit
Apologia
and check out all their wonderful products, but especially Zoology 2 Swimming Creatures of the Fifth Day.
Hop on over to
The Review Crew
to check out what other families think of this product and others from Apologia.
Disclaimer: As a member of the TOS Review Crew, I received this product at no cost to me for my honest review. All opinions are mine.