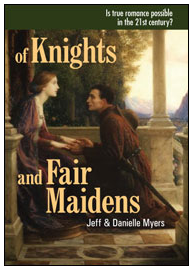 Grace and Truth Books
is an online christian bookstore. Only this is not your typical type of christian bookstore. The website states,"We know that the truth of our Lord Jesus Christ has nothing to do with fancy packaging or attempting to resemble secular literature or media. This online bookstore is built on a different approach: what will glorify God, strengthen His people in their walk, and call all peoples to find joy in knowing His gospel and following him". What a great statement and mission. Grace and Truth Books offers books and music for all ages in theology, history, education, biography and so much more!
We were given the opportunity to read and review
of Knights and Fair Maidens
. The name of the book alone is very intriguing. It brings to the mind life in medieval times and everything that encompasses. This book asks the simple question, "Is true romance possible in the 21st century"? Jeff and Danielle Myers originally wrote this book back in 1996. According to Grace and Truth Books, of Knights and Fair Maidens was one of their most requested out of print books. It is now back in a hard cover edition. of Knights and Fair Maidens lays out a plan for a radical new approach to developing relationships. Courting to be exact. Courting in place of dating. This concept is not that new or old for a lot of families in the homeschooling community. I am sure there are many teenagers out in society that would look at us like we had grown an extra head if we asked them to contemplate courting. I am not worried about the rest of the world, just my daughter. There are many aspects to courting I find appealing. At this point Grace does not care anything about courting, dating, or marriage. We read through the book together and she does understand the reasoning behind courting instead of dating. I plan to have her read the book again around 16 or 17. Jeff and Danielle did a good job with explaining their reason for courting and how they handled their relationship. There is also good advice throughout the book on how to handle a courting relationship. I really appreciated the fact that they both talked in depth about a person's character and how today's society really doesn't look at those type of qualities when deciding on a potential husband or wife. This book should be required reading for all teenagers - once when they turn 14 and again at 17 or 18 when contemplating getting serious about marriage.
of Knights and Fair Maidens retails for $9.75 coming to you as a hard back edition. This book is recommended for ages 14-19.
Please go take a visit to
Grace and Truth Books
. Take a look at of Knights and Fair Maidens and all the other wonderful products they have to offer.
To view the opinions of all the books and of Knights and Fair Maids visit
TOS Review Crew
.
Disclaimer: As a member of the TOS Review Crew, I received this product at no cost to me for my honest review. All opinions are mine.