Raising Real Men
is a company dedicated to offering materials to raise children with character. Hal and Melanie Young are the homeschooling parents of six boys and two girls as well as the founders of Raising Real Men and Great Waters Press. I had the opportunity to review one of their products through the TOS Review Crew and just loved the product. They recently gave me the blessing of offering another product to review,
Hero Tales from American History
.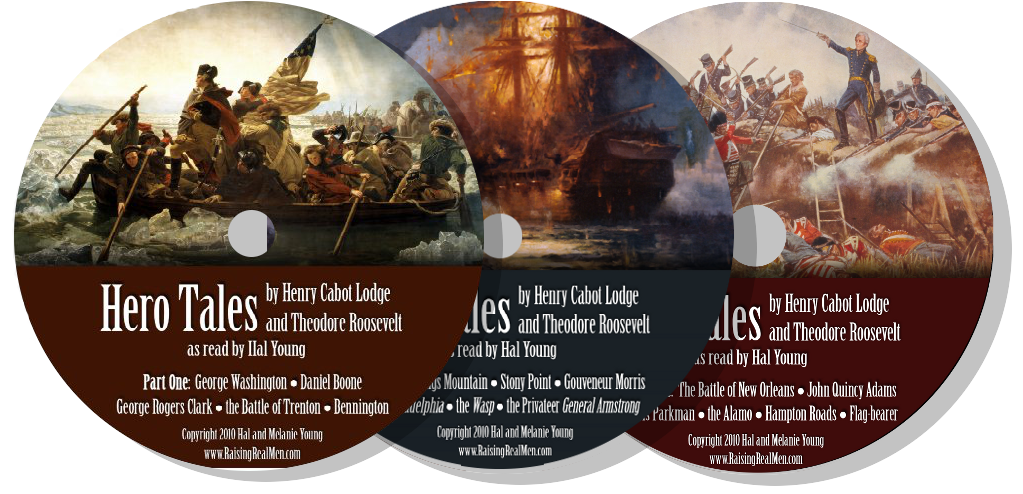 Hero Tales comes as three cds of stories from American History in an audio book format retailing for $15.00. You really cannot beat this price for what you get. I decided to use the cds in the car for traveling between errands and classes. I thought a lot of the information in the stories would be old hat, things I already knew, but real quick like I found out that was not the case. Immediately I realized how much of American History I didn't know a thing about, especially battle stories. I am not a big war/battle enthusiast which is why my favorite stories were about George Washington, Daniel Boone and John Quincy Adams. I can see this being a big winner with boys and girls for that matter who love all things about wars/weapons in battle/battles. Downloads can also be purchased for $4.00 each or individual cds can be purchased for $7.00. What makes the audio books even more interesting is the material is from a children's book written by Theodore Roosevelt. Now how many folks out there know that he wrote a children's book. I sure didn't. Not only have Hal and Melanie turned the book into an audio story but they have also added sound effects that really bring the story to life. Reading the books aloud is Hal Young himself. My husband loves all things about the wars of America so he is next on the list to get to listen to the stories. Please make sure to visit
Raising Real Men
and check out this awesome product as well as everything else they have to offer.
Disclaimer: Raising Real Men offered Hero Tales to me free of charge for my honest opinion. All opinions are mine.