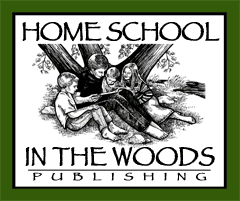 Home School In The Woods
is a company run by Amy Pak and her family. Amy was a graphic designer early on and has brought forth her designing and illustrating skills to create products that bring history to life. Home School In The Woods offers many history related products, such as: Timeline Figures, Record of Time, Maps, Time Travelers History Studies, Project Passport History Studies, Lap - Paks, and Hands-On History - Paks. This review we will focus on
Hands-On History Activity-Pak: Composers
which we were asked to use and review through the TOS Review Crew.
Recommended Age: 3rd - 8th grade
Price: $18.95 Download Version (what we received)
$19.95 CD Version
This LapBook consists of 6 hands on projects that will introduce your student to 42 different composers. Included in the Activity-Pak you will also find 90 minutes of music in MP3 format that highlights periods of music from the Middle Ages up to Modern Day. I feel like a commercial, "But wait, there is more." Also included is The Orchestra Folder Display section and composer cards that can be used for games, etc.
A page of additional resources is provided to take the Composer Study even more in depth. This includes book, audio, and video recommendations. Each activity section has detailed and illustrated easy to follow instructions. After finishing all the activities there is another illustrated and detailed instructional to put the LapBook together.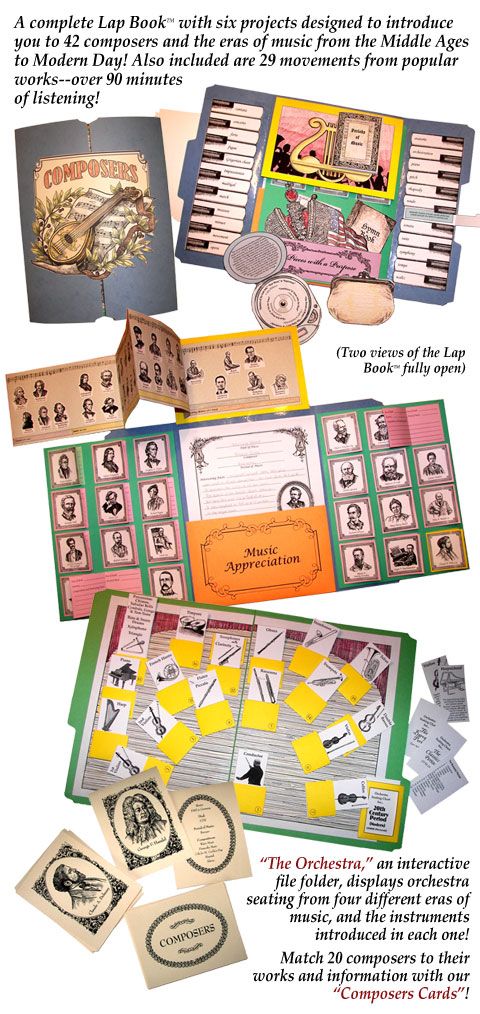 How We Used The Product and What We Thought
The
Composers Activity-Pak
was sent to us via download. I printed all the materials and placed them in a binder for easy referencing. Printing the materials seemed harder than it needed to be. All the individual files was sometimes confusing in the initial process of downloading which was why I chose to go ahead and download everything at once. Up front I feel I need to state that Grace does not like working with any type of LapBook. She doesn't mind reading and answering questions but cutting and pasting is not her thing. With that being said, we tag teamed this material - Grace pasting and me cutting. We looked over all the activities and decided to start with The Orchestra file folder activity. The Orchestra activity showed us how different the setting of instruments looked during the different eras of classical music. This way as we went through the remainder of the composer activities we could set up the orchestra for that particular time frame of music. Once this was accomplished we systemically worked our way through
each activity.
In grades 3-7 we were pretty strict Charlotte Mason learners. I say this to emphasize the fact that we did composer study once a week by reading biographies and listening to samples of their music. This Composer Study from Home School In The Woods would work so perfectly with Charlotte Mason learning families as well as any other family wanting to incorporate music and composer study into their schedules. Two of the projects stood out to us. The first was the Composer Timeline which I feel will come in very handy over the years as we study more and more history. Second we enjoyed the Music Appreciation project. Grace chose Tchaikovsky because she is rather partial to the Nutcracker and Swan Lake. Plus this activity probably appealed to the artist in her. The graphics and illustrations in this pak are quite beautiful. Many children I'm sure would enjoy coloring these to make their LapBooks look quite nice. Unfortunately Grace was really not that into it. In my opinion the grade level recommendation is good and the product is very economical. Even though this product was not a good fit for our family I still feel it is a good product and would work well with LapBook loving learners.
Also hop over to
TOS Review Crew
to see what other families thought of this product and others from Home School In The Woods.